Missouri girl finds her cowboy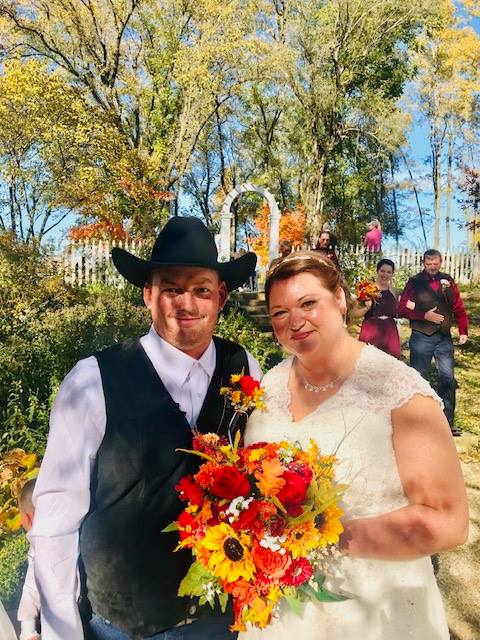 Holly and John got married here last weekend. Holly is from Missouri but a while back she had a work opportunity call her to Colorado. She remembered the day at work that her boss told her, "I found you a cowboy" when letting her know there was a new guy working there he thought she might like. That did not convince her at all. This romance took some time to grow. But when it did – it was BIG! John has two beautiful kids – Christina and Hunter. Holly is getting an instant family. A challenge and honor she relishes.
Planning a wedding from out of state poses many challenges but Holly is extremely thoughtful and highly organized. She made good use of her two visits prior to the wedding and looked through all the décor we had and made plans about the things she wanted to use. The other really smart thing she did was to make silk floral arrangments. She knew it would be peak fall color so she went with that as a theme. She had finished all the fall centerpieces plus the bouquets before she arrived. They were amazing! She turned out to be an excellent floral designer – she may have even surprised herself! And back to that peak fall part. Oh my! Was it ever electric color last weekend. Absolutely stunning. One of our prettiest falls I can remember. The maples on either side of the stage were bright orange and the whole front yard was full of bright yellow trees! Stunning!
The ceremony was officiated by our friend Timmy Gibson, who did a wonderful job (as always!). Everyone looked so nice too – the bridesmaids in their long burgundy gowns the men all in dark jeans and vests (John had a black suede vest and white shirt, his fellas wore burgundy shirts with brown suede vests). John finished off his handsome cowboy look with a black cowboy hat. Holly looked gorgeous in her cap sleeved ivory lace gown.
She had a lovely updo for her hair and a stunning diamond tiara – a princess can marry and cowboy if she wants to, right? I have to say I had real boot envy as under that fancy dress were some rocking cowboy boots with diamond embellishments. Wow! In fact, the whole wedding party wore boots.
Little Christina wore an ivory dress with burgundy sash and a top layer of tulle over the skirt that held burgundy flower petals – so adorable! She got a junior tiara to finish it off. She seemed pleased with that. Hunter was in a black piped white western shirt and jeans.
The ceremony was lovely and included a sand blending ceremony. Symbolic of the blending of two lives. (and not a bad wedding keepsake at the end).
Holly and John had signed up for an outdoor cocktail hour so people could enjoy the natural beauty a little longer after the ceremony. Great call! It was lovely!
Once down at the hall the guests all got to see the pretty fall centerpieces she had on our log slices and she chose our gold sequin runners and burgundy napkins. Soooo pretty!
They had a wall of photos of their love story strung on swagged strings of lights, all the pics attached with mini clothespins – I hadn't seen anyone do a photo wall quite like that and it was really cute!
The head table had strings of lights hanging behind it, and more fall foliage and a cute Mr. & Mrs. sign on the table.
The front room featured a table of old family pictures – wedding pictures and others from years past. Really sweet.
Dinner was catered by our favorite BBQ joint ever – Weston's very own, Tin Kitchen. It was delicious, as always.
Holly's sweet mom had made a gazillion cupcakes and a cake for the dessert table. Their beautiful cutting cake had fall foliage (silk not real) added for decoration and a cake topper that said "the hunt is over". And these cupcakes! So pretty! They looked like large blooming flowers – in strawberry, lemon and chocolate. She even made some gluten free vanilla ones.
The couple treated everyone to a full champagne toast which is always so fun. Lots of great toasts to the newlyweds.
Their DJ was Jakob of DJ Wagner. He was wonderful and kept everyone on the dancefloor all night. A wide range of music but there may have been a little boot scoot boogieing going on for part of the night.
It was a great night and we were so honored to get to work with this amazing couple. Congratulations to Holly and John!